Cut Flowers
Aneeta Prem's new book about FGM is now available to buy
As the PSHE Association Associate Subject Specialist Nick Boddington said, "Cut Flowers and the accompanying lesson plans offer a route into building this vital topic into schools' planned PSHE education provision in an effective, safe and educationally appropriate way. It will help to build knowledge relating to rights, responsibilities and the boundaries of confidentiality and will help to build key skills and attributes such as critical thinking, judgment and risk management."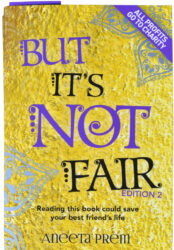 But It's Not Fair
Read more about But it's Not Fair,  Aneeta Prem's previous book about Forced Marriage.
'Cut Flowers' by Aneeta Prem is, in her own words, a story about saving lives. It discusses the continuing threat of FGM (female genital mutilation) not only abroad but also in the UK. FGM affects around 70 million women and girls worldwide and 'Cut Flowers' explores how it individually touches two British girls lives on their summer break.
Synopsis
Cut Flowers tells the story of Katie and Sophia. They are just two ordinary girls eagerly awaiting the summer holidays until their teacher, Miss Adams, gives them their summer homework – to prepare a presentation about what they did over the holidays. Little did they know that it would be the start of a lifelong mission to protect young girls all over the world.

The adventure starts when Katie and her family go to Africa to meet her Granny Jojo and cousins for the first time. But behind the fun in the sun and the safari trips, something's not quite right. Katie stumbles upon an old family secret and it's up to her to get things out in the open. What really happened to her Aunt Daisy, and why does no one ever talk about her anymore? With her mum's help, Katie finally begins to understand what happened all those years ago, but will she uncover the truth in time to save herself and her cousin Sweetpea from a similar fate?

Meanwhile back in England, Sophia is completely unaware of the danger that her friend is facing as she joins forces with her new friend Charlie on their own seaside singing adventure, which brings them into royal circles.

When Katie finally returns from Africa she needs all of Sophia's support and creative flair to shine a spotlight on something that's affecting millions of girls worldwide, but that no one seems to want to talk about…
About Cut Flowers
After I finished 'but it's not fair' many teachers and other professionals asked me if I would consider writing a book on FGM. Especially after they found 'but it's not fair' a very easy read and helped them tackle forced marriage in a way that engaged young people.'Cut Flowers' a novel on FGM follows two children's different summer holidays.

I believed there was a need for a book that dealt with FGM that young people could read, not just to discover what the dangers were, but more importantly what they could do to help prevent this and end FGM in a generation.

The practice of FGM is hidden in fear myth and secrecy. By bringing this out into the open we can dispel myths.Boys need to be part of the solution.

Through the book and the associated PSHE Association accredited lesson plans this will give young people the tools needed to deal with the issue, and for professionals a way of teaching this that makes it less culturally sensitive.

Writing a book on such a sensitive issue, I hope I have managed to get the facts across in a way that does not cause too much distress. I have spoken now to many of women and girls  who have gone through FGM and they have shared how they felt the book should be written.

Our heroic Katie comes from a loving extended family and although I believe FGM is child abuse I do not believe her immediate family are cruel or unloving.